IPBan Pro Datacenter is used to protect your computers and servers and is recommended if you have several or more machines to protect, as the software will share attacks and rapidly block attackers from all machines. For one or only a few numbers of machines, IPBan Pro Personal might be a better fit.
Before installing any clients, you should first install the IPBan Pro Web Admin Server. This will act as a master control server for all clients to connect to for sharing information, failed logins, bans, settings, etc.
The following architecture diagram may be helpful for you to understand how the web admin server and clients interact: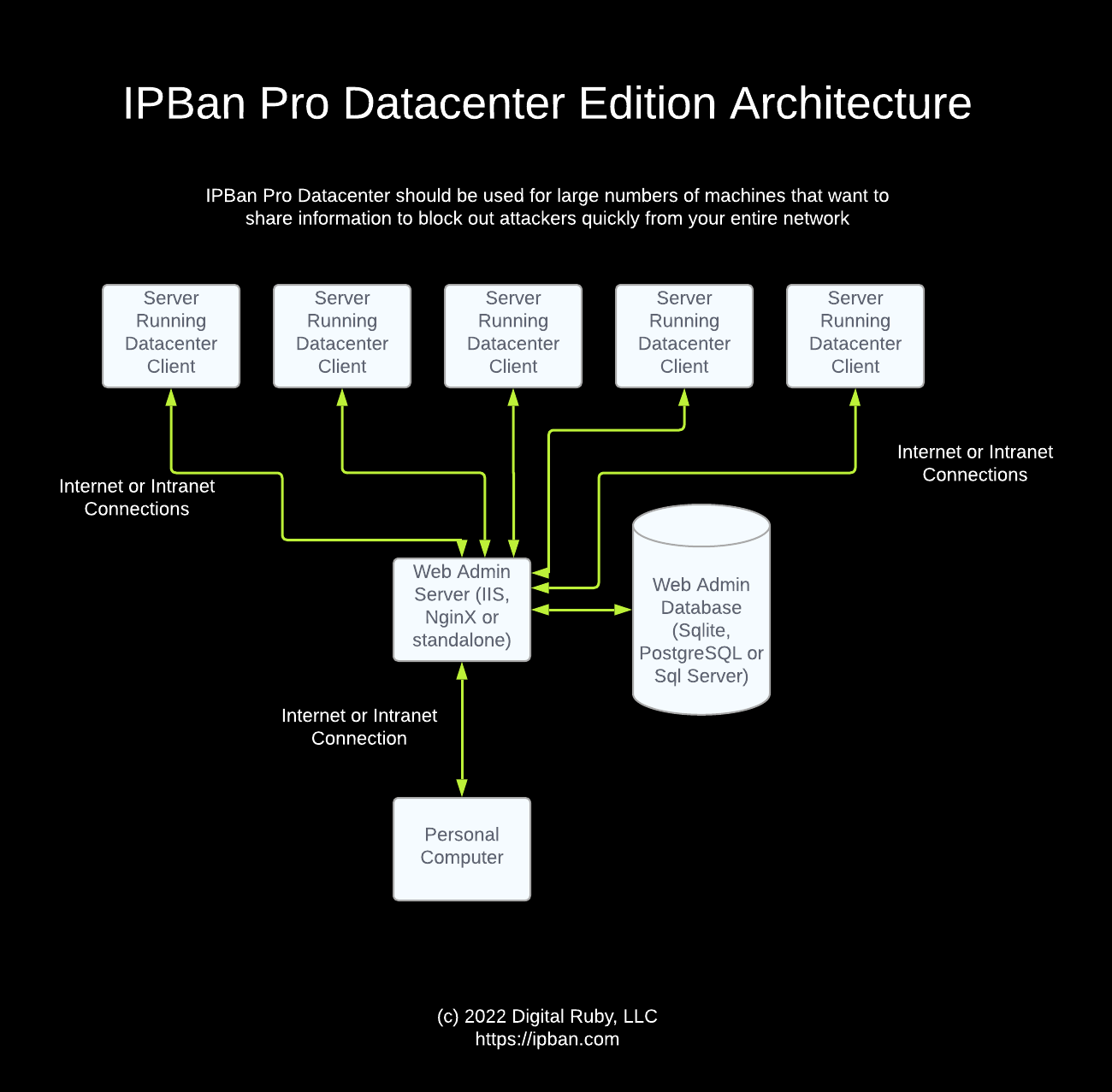 Once the web admin server is installed, unzip the datacenter installer somewhere to your computer. On Linux, you need to chmod +x install.sh. On Windows, you need to right click the install.bat file and select properties and then select the unblock option if it is available.
Next, run install.bat (Windows) or install.sh (Linux).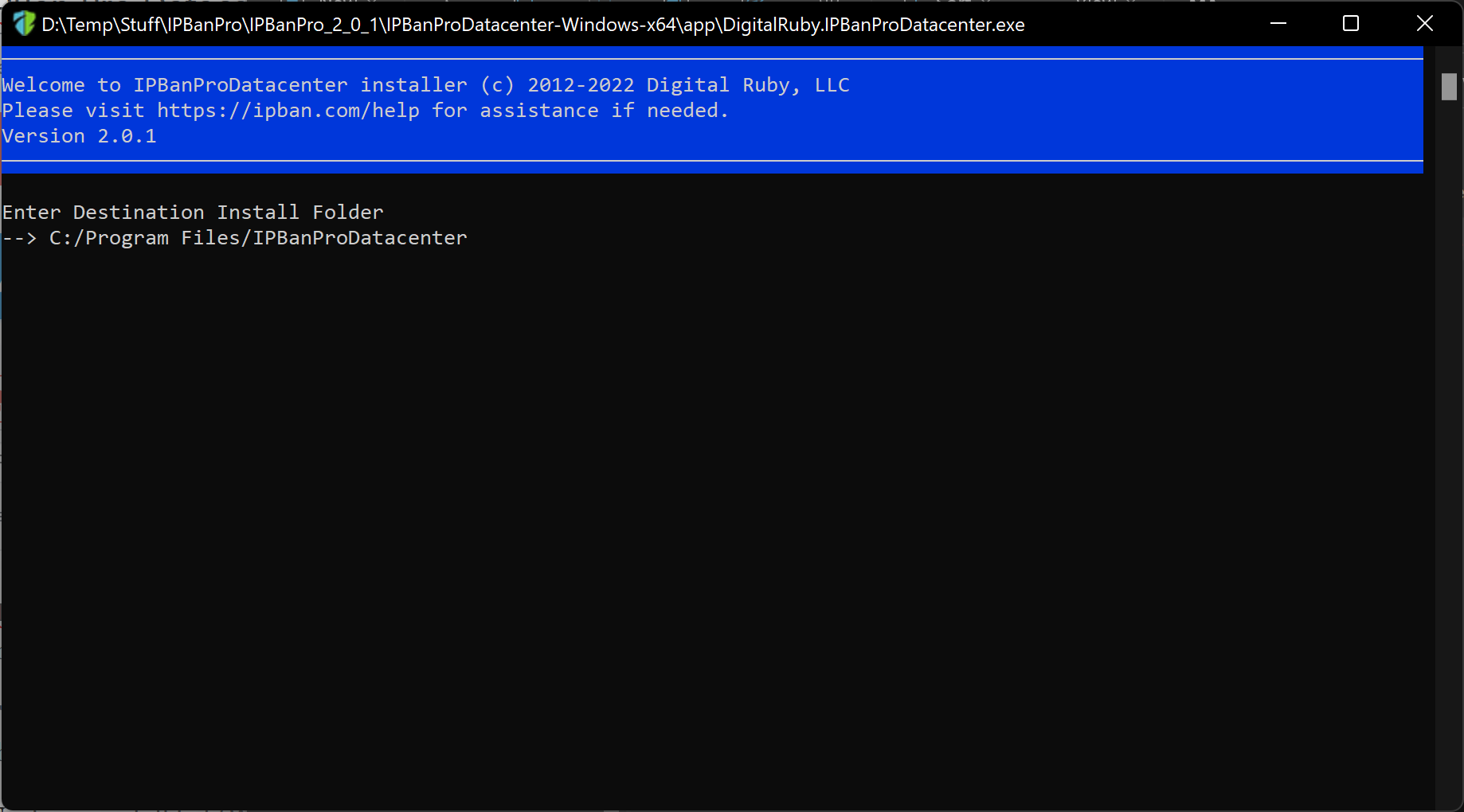 Your version may be different. Keeping the default install folder is recommended, but you can change it if desired. Press ENTER to move to the next step.
You can select your firewall. Both firewall options work great, but in almost all cases you should keep option #1 (WFP Firewall). For Linux this screen does not appear and you will be using the iptables firewall.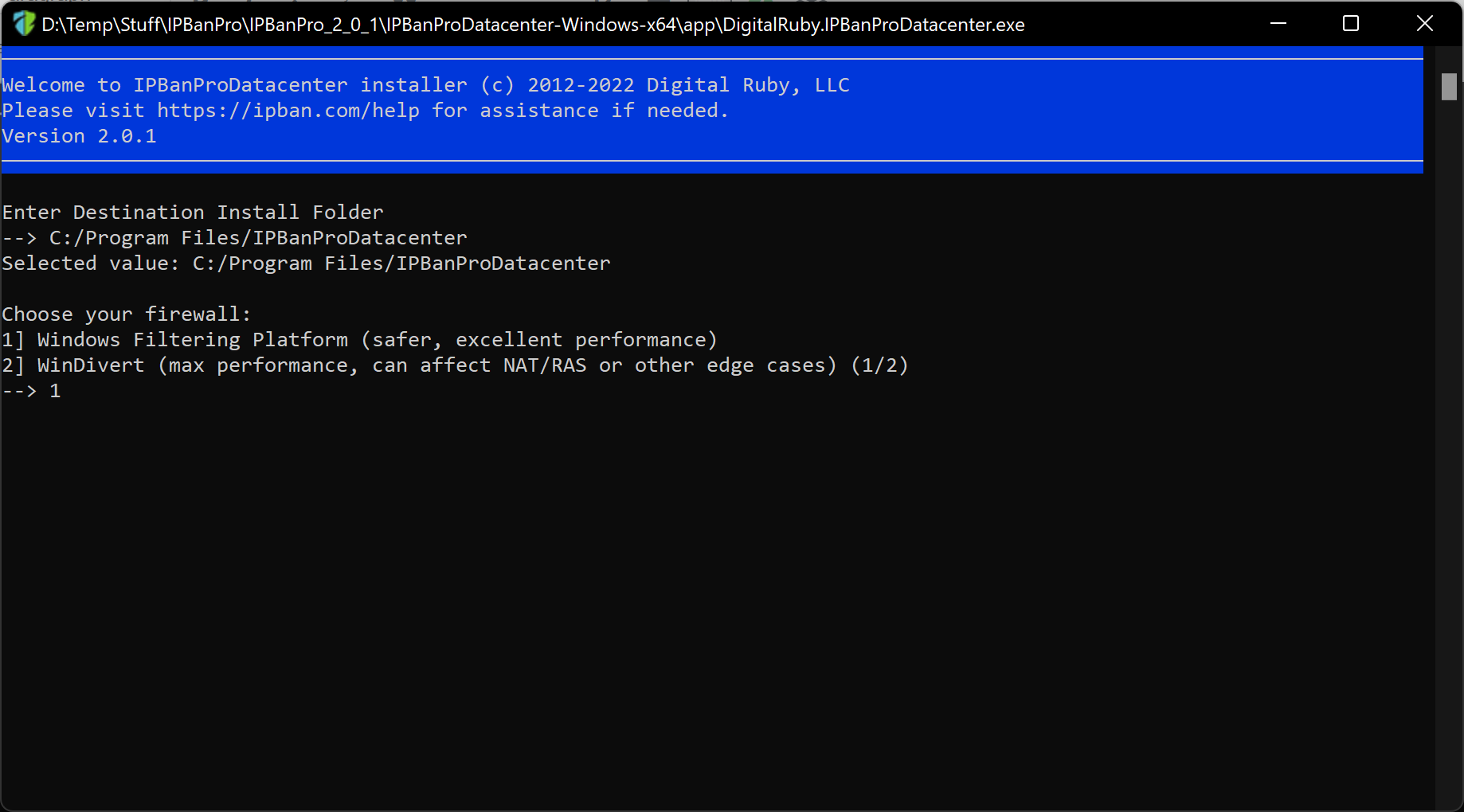 Press ENTER to select your firewall and then it will be time to enter the master control server url.
The default url will contain your current machine url, you need to backspace and delete this and enter the server url you put in when you installed the IPBan Pro Web Admin Server.
Press ENTER to move on to the next step when ready.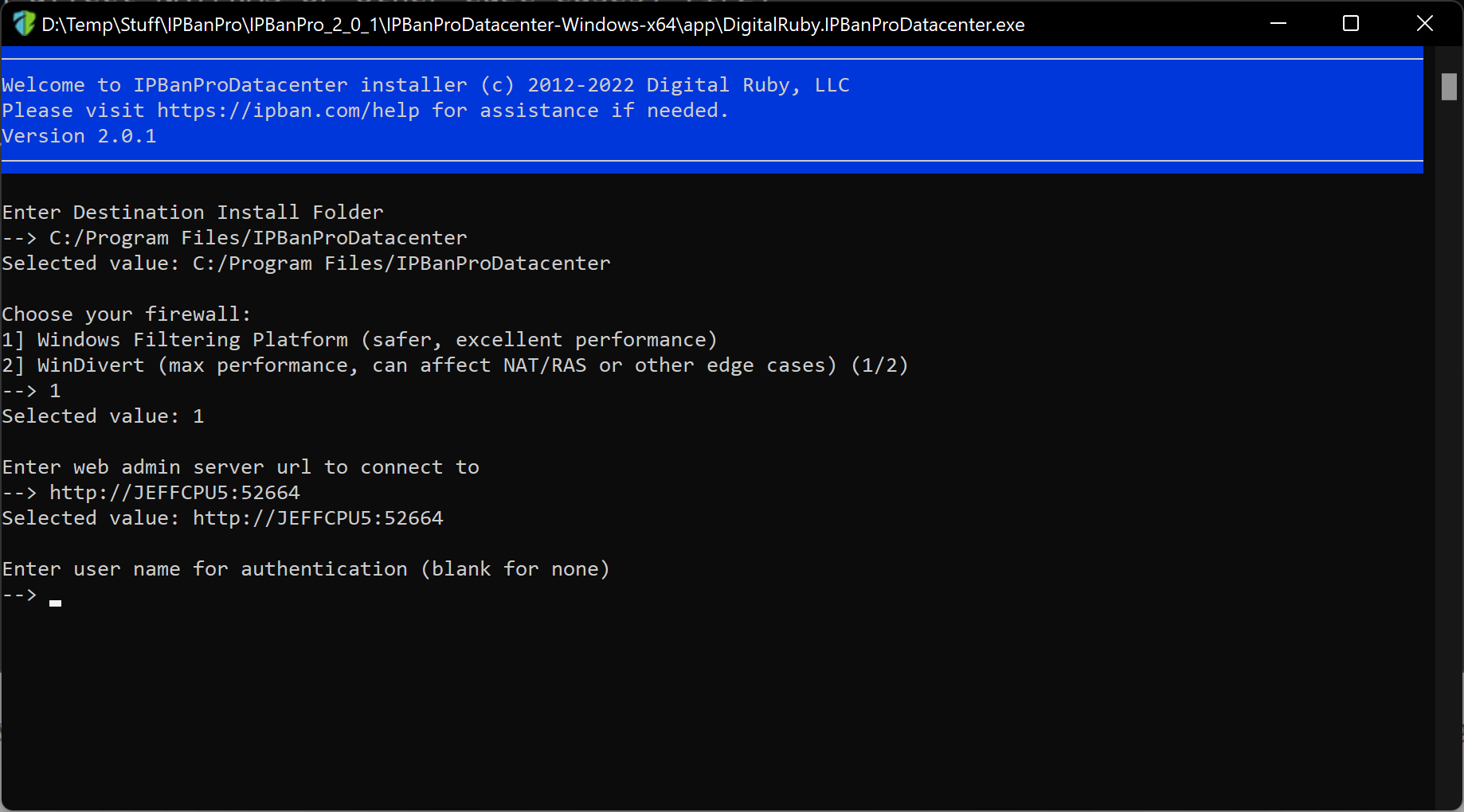 If you entered a user name and password during the install of the IPBan Pro Web Admin Server, you must enter those same values here.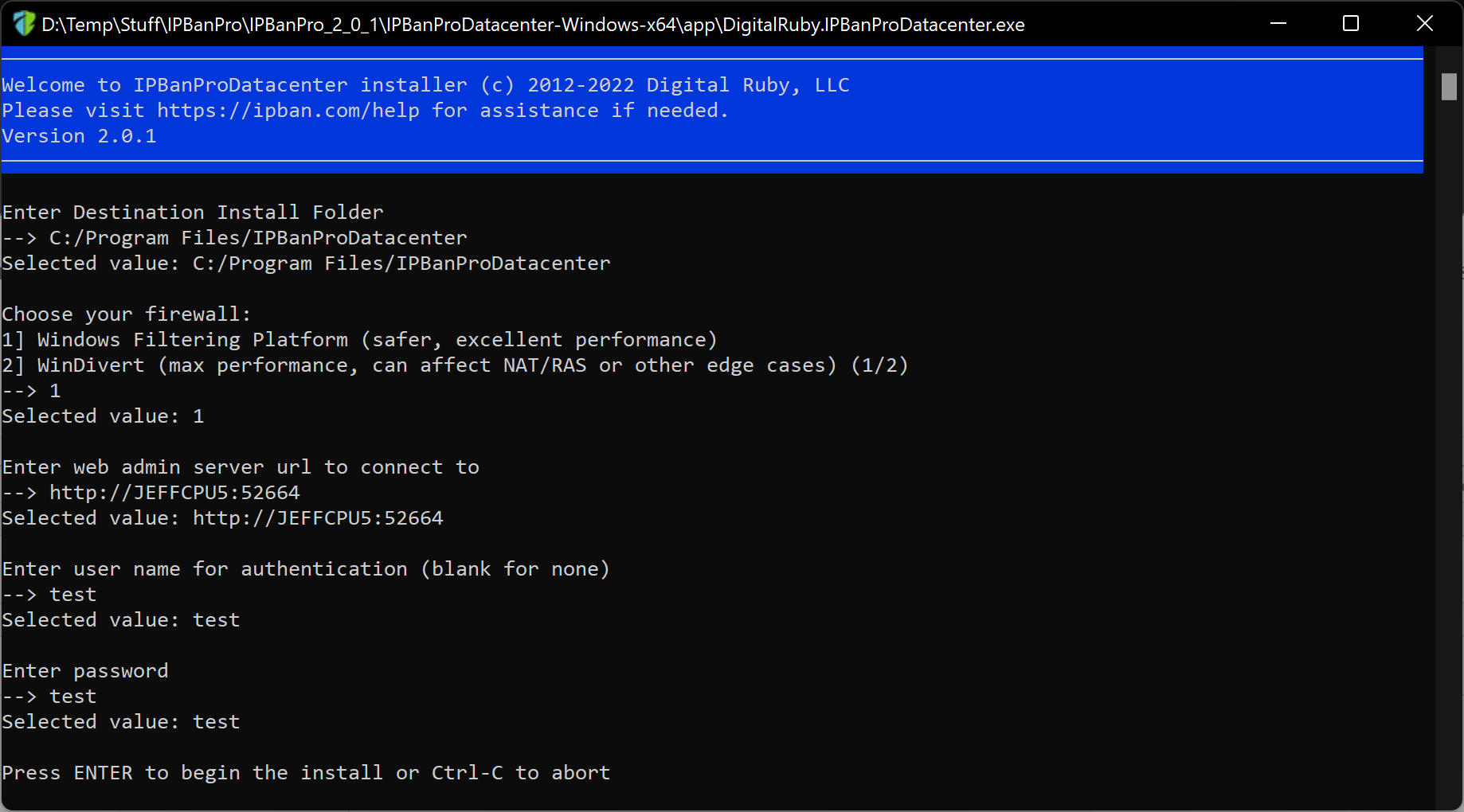 After selecting your user name and password, the installer will ask if you are ready to proceed. When you are ready to begin the installer, hit ENTER.
Should you desire to uninstall, you can run the install file again, select the same folder as before and then choose the uninstall or remove option when presented with it. On Windows you can also use control panel, add/remove programs. If the application does not disappear, run the uninstall option again from control panel and it will be removed.
To update the datacenter clients, you can use the tools -> update clients option in the IPBan Pro Web Admin Server.
If you are cloning an installation to multiple machines, you must remove %windir%/ipbanpro_machine_guid.txt (/etc/ipbanpro_machine_guid.txt on Linux) on all clones and restart the machine.
Please email [email protected] if you have questions, feedback or for anything else.
Stay up to date with the latest news, releases and more.